POTSHOT PROFILE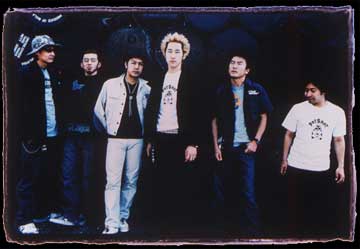 Formed in 1995 by vocalist and songwriter of the band RYOJI.
The bands aims to play melodious, and sing-along SKA PUNK with a horns.
In 1997 releases POT'S AND SHOTS in both Japan and the U.S.A. from ASIAN MAN RECORDS owned but MIKE PARK ex. SKANKIN PICKLES.
RYOJI starts his own label TV-FREAK RECORDS in 1998. Releases ROCK'N'ROLL and in 1999 their 3rd album POTSHOT 'til I die.( the Asian Man Records version will be released in October 2000).
In March 2000 did THE PLEA FOR PEACE TOUR in Japan with THE CHINKEES and MU330. Under the slogan of PEACE AND UNITY, the tour was a big success.
After this tour POTSHOT did their first mini tour in the U.S.A.
In JUNE their new single " To That Light " will be released.
And in October their new album will due to be out.